Upcoming Events - See Below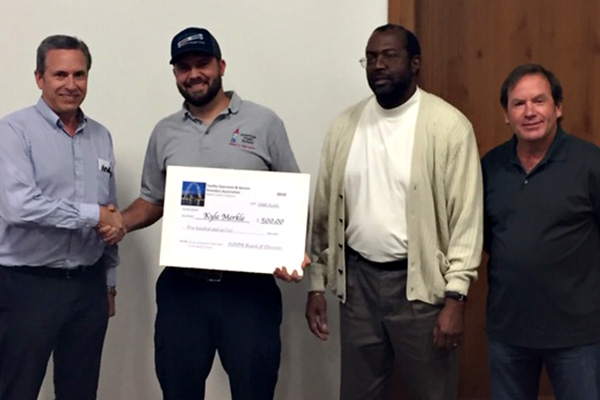 FOSPA's 2018 Educational Scholarship Award Recipient, Mr. Kyle Merkle
Pictured above, L-R, FOSPA VP, Bill Weaver; Scholarship Award Recipient, Kyle Merkle; American Trade School Director, Turner Brooks; and FOSPA President, Don Harmon.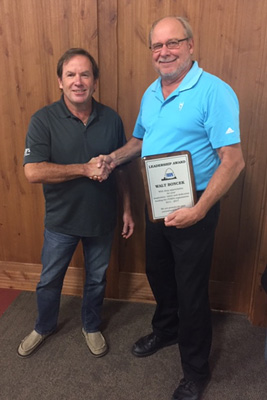 FOSPA President, Don Harman and FOSPA First Past President, Mr. Walt Boncek
Greetings FOSPA Family,
Summer is ending and soon fall will arrive with a coolness in the air. What a perfect time to end the FOSPA year strong.

September is the annual golf tournament to be held on September 7th at The Falls. It is a new venue and new format and sure to be a lot of fun. Not everyone plays golf, but if you are interested in volunteering we can find something for you to do.

In October we will get together for our annual meeting to discuss FOSPA's past, present and future. Bring your thoughts, suggestions and opinions on what we are doing right and wrong. This is your opportunity to let us know what we need to do for you. FOSPA is you. Don't let this opportunity pass without being heard. Members only, please.

November finds us rubbing elbows with an attorney. Be there and learn how to clean up your warrants and get around a subpoena. We ask members to submit questions to board members for the attorney to research before the meeting. Don't be shy. This is free, legal advice.

And we wrap up the year with our Christmas party at The Westwood Country Club. You may bring your significant other to enjoy that special night of holiday spirit.

Visit our website for times and dates for these events. See you at the next meeting.

Sincerely,
Don Harmon
President, FOSPA